Product Reviews Pro
| | |
| --- | --- |
| Supported OC Versions | 3.0.3.8 , 3.0.3.7 , 3.0.3.6 , 3.0.3.2 , 3.0.3.1 , 3.0.3.0 , 3.0.2.0 , 3.0.1.2 , 3.0.1.1 , 3.0.0.0 2.3.0.2 , 2.3.0.1 , 2.3.0.0 |
| VQMOD Required | No |
| | |
| --- | --- |
| License type | NO -DATA |
| Support | yes |
| Update | yes |


Overview Of OpenCart Product Review Module
Product reviews pro OpenCart Extension allow you to collect customer reviews for your products. It will encourage a customer to post more than text in their reviews. Customers can post Images as well. It will increase the trust of the customer in your website.
Product reviews help to build a community talking more about your products which inspires the customers with great reviews. Before purchases, most people check the product Rating. So this extension will definitely prove helpful for your OpenCart store.
It let you give reward points to customers when they wrote a review on the product. Another cool feature is, the module sends thanks email to them for posting a product review.
Core Features Present In OpenCart Product Review Extension
---
Product reviews will show in on review section of the product. With Filter, like, and dislike button average rating and count of reviews given. There are many functionalities present in this module.
You can enable the latest reviews anywhere on your Store. We also call it OpenCart review extension. This extension will add extra features for your customers to write a useful review. Here is a list of the functionality.
Upload images with their review
Show best reviews on Top
Like and dislike reviews
Multiple rating bar
Share reviews on social sites
Report the reviews
Send thanks email for writing review
Custom email template, set image size
Advanced filter
Reward points for writing review
Set colors form admin
Set limit of images uploaded by the customer
Each Review has separate pages
Support multi languages
Compatible with OpenCart version 2.2.x and 3.x
Documentation present
Let Your Customer Upload Image Within Review
---
Many times, Customer want to upload images of the product they are using. But traditional opencart review does not allow this. Using our module, Your customer will able to add images to their review. Showing product images of customer add more value to their customer.
Admin can limit no of an image that can be upload by the customer in their review. There are a lot of setting present, some of them are.
Maximum number of image upload
Allowed File Extensions
Allowed File Mime Types
Customer Image Full Size - automatically resize
Attach Image Thumb Size
Attach Image Location
Display Customer Reviews Like Professional
---
Using our module, your OpenCart website can display product reviews like a leading company display on their website. Show the best reviews on top, so new customers can read how effective your product is for them. Also, the product page will have an average rating in stars and review count.
It will make your website more professional. Showing no rating given by the customer in stars. It will give insight to the customer and they can make their decision to buy the product. There is a setting for adding custom CSS code. It let admin add or change CSS code to make necessary changes or color theme.
Total count of rating and reviews in stars
Average rating
Show the best reviews on the top
Advance Filter Present In OpenCart Product Review Module
---
OpenCart Product review pro gives more features than other modules present in the market. It let your customer or visitor filter the reviews. The main advantage of this filter is, they can read the reviews according to selection.
From older review to new review written by a customer, high rated to low. Filter show in the review section of the product. Here are filter options for your customer. Admin can enable and disable filters anytime from the setting. It is a useful OpenCart review module.
High Rated Review
Low Rated Review
Recent Review
Oldest Review
All Reviews
Like Dislike and Report The Spam Review
---
Product Reviews show with the like and dislike button. When visitors and customers found the other's review helpful, they can like it. Otherwise, dislike reviews present on the product. It will help future visitors. No of like and dislike show in percentage.
There is also a "Report Spam" icon present below review. Admin can enable the Spam button for visitors or customers or both. This gives flexibility to the website. And prevents an unauthorized person from reporting spam reviews. Like dislike and report spam can do once. As they are working with IP. No one can give twice like or dislike on same product review.
Customer can like and dislike other's reviews
Report a spam review
Show All Products Reviews on Single Page
---
One awesome feature of this module is, Admin can display reviews of all products on a single page. To speed up creating a page template. the module provides a shortcode. There is 6 shortcode present. Which can use in the text editor to create a page where all product reviews will display.
The page will have a list of product reviews with name, Image, average rating, no of reviews, etc. It will also work as a testimonial for your new customers. The Page created using product reviews pro OpenCart, will increase your presence in search engines and increase customer trust.
Use Shortcode to create a page.
List of Products with an average rating.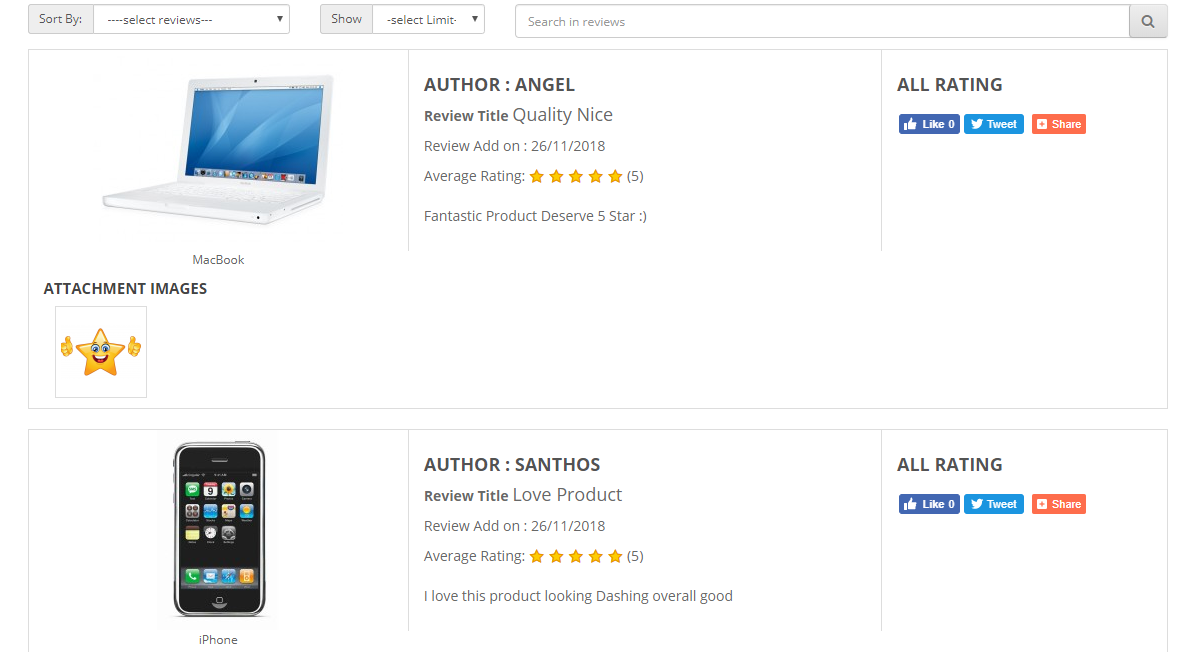 Configure From Admin
---
It comes with a lot of setting options to configure the product review section. It can configure to work according to their website need
OpenCart product review module settings are divided into 4 parts. first, the General part lets the website configure the product reviews section. What rating bare should use and can enable disable votes. The second, part uses page information where all product reviews will display.
Third, the setting is email notification. Here, Admin can create an email template. Which will use to send to the customer after they post a review on the product. Also, there is a setting, when enabled module will send a new review notification to the admin email along with product information.
The fourth and last one is, for adding custom CSS code. Custom CSS settings let the website change the design of the review section. It gives freedom to the website to match with their color theme.
Configure the review section
Show all product review page
Email notification
Custom CSS
Support Multi-Languages
---
TMD cares about their customer and client. That's why they create all modules and themes multi-language compatible. Your website uses non-English language.
When Sending emails to customers and admin, the Module will select the primary language for the newsletter template. And send newsletter template will only have primary language text present.

Premium Support
---
Got pre-sale questions or have questions about support. Please create a ticket. We will help you to get it working.