Product Price List
| | |
| --- | --- |
| Supported OC Versions | 2.3.0.0 , 2.3.0.1 , 2.3.0.2 3.0.0.0 , 3.0.1.1 , 3.0.1.2 , 3.0.2.0 , 3.0.3.0 , 3.0.3.1 , 3.0.3.2 2.0.1.0 , 2.0.1.1 , 2.0.2.0 , 2.0.3.1 2.2.0.0 2.1.0.1 , 2.1.0.2 |
| VQMOD Required | No |
| | |
| --- | --- |
| License type | NO -DATA |
| Support | yes |
| Update | yes |
TMD is an Official Partner of OpenCart
View Profile: TMD OpenCart Extensions India
Overview Of Product Price List

The Price List extension shows a new page that displays all products of your store, that Allow users to see all products prices at one page with multiple product Info. its multiple Filter option helps to find products what you are looking for. it Provides a convenient way to access all store products in a highlight configurable filters.



What does the product price list do for you?

In Simple Wording, to find all products from All Store is the most complicated part of an online store, most shoppers leave online shopping due to complicated steps. But price list extension greatly simplifies this process, with improving the user experience. this extension not only increases your immediate sales but also longer-term return visits. because this extension Show All Store products on One page.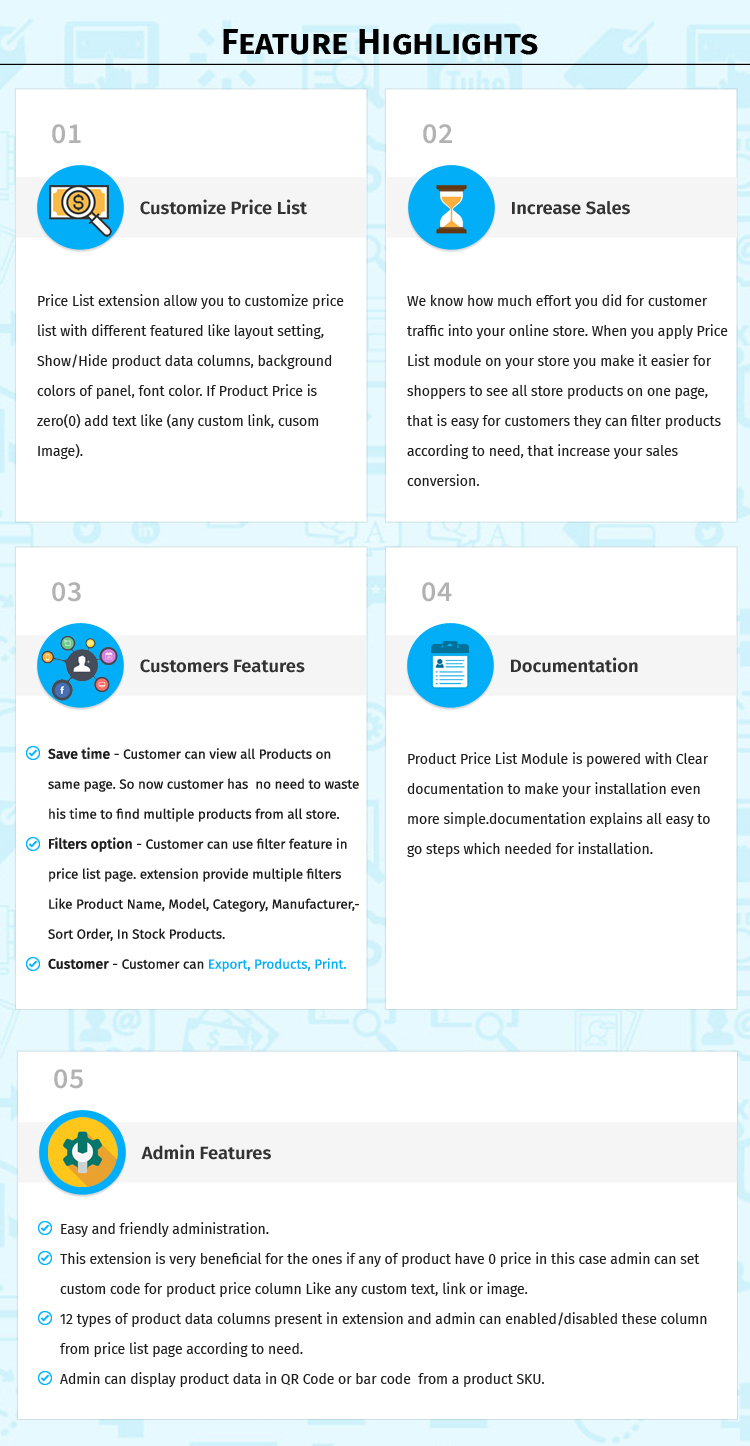 FEATURE HIGHLIGHTS


1. Customize Price List page display

Price List extension allows you to customize price list with different featured like layout setting, Show/Hide product data columns, background colors of the panel, font color. If Product Price is zero(0) add text like (any custom link, custom Image).

2. Increase in Sales

We know how much effort you did for customer traffic into your online store. When you apply Price List module on your store you make it easier for shoppers to see all store products on one page, that is easy for customers they can filter products according to need, that increase your sales conversion. with this customer feel good shopping experience on your store and they will visits again on the store.

3. Admin Features:

Easy and friendly administration:

This extension is very beneficial for the ones if any of product has 0 prices in this case admin can set custom code for product price column Like any custom text, link or image.


12 types of product data columns present in extension and admin can enable/disable these columns from price list page according to need
Admin can display product data in bar code from a product SKU.

4. SEO Friendly

You can create SEO friendly url for price list link that is easy for access and SEO has to benefit for your store.



5. Customer Features:

Save time
Customer can view all Store Products on the same page. So now the customer has no need to waste his time to find multiple products from all store.

Filters option
Customer can use the filter feature in the price list page. extension provides multiple filters Like:

- Product Name
- Model
- Category
- Manufacturer
- Sort Order
- In Stock Products
- Customer can Export Products and also have the option of Print

6. Documentation

Product Price List Module is powered with Clear documentation to make your installation even more simple. The documentation explains all easy to go steps which needed for installation.



Core Features

- Search & filter – products can be search and filter by categories, manufacturers, name, price, Etc.

- Show column of an image in which have a product image with related images in a popup.

- Ajax base processing of price list records

- Export price list as excel file

- Manage what columns to show from admin

- Manage filters position Left,Right,Top,Bottom

- No core file modification

- Multi-store supported

- Fast Loading and Sleek

- Free And Fast Support

- Support All Versions

- It Supports Multi-language

- Support Multi-Store

- We Provide free support & Best Support



Why should you use Tmd Price List?


1. Created By Opencart Official Partner

We are in this field for a very long time. So our best services and diverse module along with Our Good & Professional Work has given us an opportunity to become a partner for Opencart.


2. User-Friendly

Price List shoppers see all information on one page, above the fold. The latest technologies have been used to make it quick and easy because all list of product with multiple info is available on one page with all options in clear view. so this simple Process makes it user-friendly.


3. Error Free Module

our Modules are Bug-free Module. in case you face any Issue, we Provide Quick Support for our customer. so all customers are happy with us.


4. Professional Support

We are on Opencart Market Last 7 Year. We made over 200+ Module and Many Themes so we have the best of the knowledge in this framework. If our customer Face Any Issue During Installation Process we Provide Absolutely Free of Cost Support. This Process is 3 Month after your purchase, you can enjoy technical and feature support.


Support

support@opencartextensions.in

Tags:
price list
,
tmdpricelist
,
price list
,
tmd price list
,
product price list
,
product pricelist
,
search product price list
,
filter price list
,
stock price list
,
print price list
,
export price list
,
export product price list
,
print product price list
,
opencart price list
,
search price list
,
one page product price list
,
one page price list
,
all product price list