Import Export Combo (Multi Language)
| | |
| --- | --- |
| Supported OC Versions | 1.5.2.1 , 1.5.2 , 1.5.1.3 , 1.5.1.2 , 1.5.1.1 , 1.5.1 1.5.3.1 , 1.5.3 1.5.5.1 , 1.5.5 , 1.5.4.1 , 1.5.4 1.5.6.4 , 1.5.6.3 , 1.5.6.2 , 1.5.6.1 , 1.5.6 2.1.0.2 , 2.1.0.1 , 2.0.3.1 , 2.0.2.0 , 2.0.1.1 , 2.0.1.0 , 2.0.0.0 2.3.0.2 , 2.3.0.1 , 2.3.0.0 , 2.2.0.0 3.0.3.6 , 3.0.3.2 , 3.0.3.1 , 3.0.3.0 , 3.0.2.0 , 3.0.1.2 , 3.0.1.1 , 3.0.0.0 4.0.2.3 , 4.0.2.2 , 4.0.2.1 , 4.0.2.0 , 4.0.1.1 , 4.0.1.0 , 4.0.0.0 |
| VQMOD Required | YES |
| | |
| --- | --- |
| License type | Commercial |
| Support | yes |
| Update | yes |
Overview of OpenCart Category, Product & Manufacturer Import & Export Module
As the name suggest this module is designed by TMD for import and export purpose for some of the specialized fields of items such as product category, stores, and manufacturer which other wises are not available by default in the OpenCart system and it supports formats such as XLS, CSV, XML, and XLSX.

There are 4 different things that you can accomplish with this product category, manufacturer export, and import module.

1. Import of product category and its related fields from a single screen import by id or model

2. TMD Category Import/Export product category for import and export of product categories where both share the same screen, however, you can also limit the export quantity to download.

3. Export of product category from a single screen by stock status as in stock, out of stock, pre-order, etc

4. Manufacturer Export/Import data to import and export manufacturer id from a single screen within corresponding tabs

The best thing about this module is you can export a large group of product categories, stores, stock status, and manufacturer information in one go. However, you also can do this even for a single category or a manufacturer as well.
PRODUCT SAMPLE FILE
CATEGORY SAMPLE FILE
UPDATE YOUR PRODUCTS FROM OLDER OPENCART TO NEWEST OPENCART
SPECIAL FEATURE OF PRODUCT
EXPORT BY STORE, LANGUAGE, MANUFACTURER, ETC
EXPORT BY PRICE RANGE (50-100 etc)
EXPORT BY LIMIT (if your server have limited memory you can use this option its help a lot)
EXPORT ALL PRODUCT TOGETHER
FIELD LIST FOR IMPORT AND EXPORT PRESENTS A LOT OF features
PRODUCT ID (if you are going to add a new product leave this empty and chose option upload by product id)
Language

Stores
Stores id (if you did not want put store name you can use id also multiple (0;1;2 etc))
MODEL (if you want unique by the model you can choose option upload by product model)
SKU
UPC
EAN
JAN
ISBN
MPN
Location
Product Name
Meta Tag Description
Meta Tag Keywords
Description
Product Tags
Price
Quantity
Minimum
Quantity
Subtract
Stock (1=YES 0= NO)
Out Of Stock Status (5=Out Of Stock, 8=Pre-Order, In Stock=7, 6=2 - 3 Days)
Requires Shipping (1=YES 0= NO)
SEO Keyword (Must Unique)
Image(Main image)
Date Available
Length Class (1=Centimeter, 3=Inch, 2=Millimeter)
Length
Width
height
Weight
Weight Class (1=Kilogram,2=Gram,6=Ounce,Pound=5)
Status (1=Enabled, 2= Disabled)
Sort Order
Manufacturer id
Manufacturer
Categories id
Categories (category>subcategory; category1>subcategory1; )
Related Product ID (you can use product id of the link (10;12;13))
Related Products (if you did not know id you can use the product model)
Option: (option1::value1-qty-Subtract Stock-Price-Points-Weight-
sort_order
)
Images (image1;image2;image3)
Product Special price:(customer_group_id:start date:end date: special price )
Tax Class (None=0,Taxable Goods=9,Downloadable Products=10)
Filter Group Name (Group Name: Sort order;)
Filter names (group name=name:sort order;)
Attributes (Attribute group name:sort order=attribute name-value-sort order;)
Discount (customer_group_id:qty:Priority:Price:Date Start:Date End;)
Support Multi-language

Reward Points
Meta Title
Viewed
Download ID
Review
SPECIAL FEATURE OF CATEGORY
EXPORT BY XLS,CSV,XLSX
EXPORT BY STORE, LANGUAGE
EXPORT BY LIMIT (if your server have limited memory you can use this option its help a lot)
EXPORT ALL CATEGORY TOGETHER
FILED LIST FOR IMPORT AND EXPORT LOT OF FEATURE PRESENTS
Category ID (if new entry please leave empty)
Language
Stores(0,1)
Category Name
Meta Tag Description
Meta Tag Keywords
Description
Parent
SEO Keyword
Image
Top
Columns
Sort Order
Status
Meta title
Fillter (filltergroup::name;)
Total Number of Product in this Category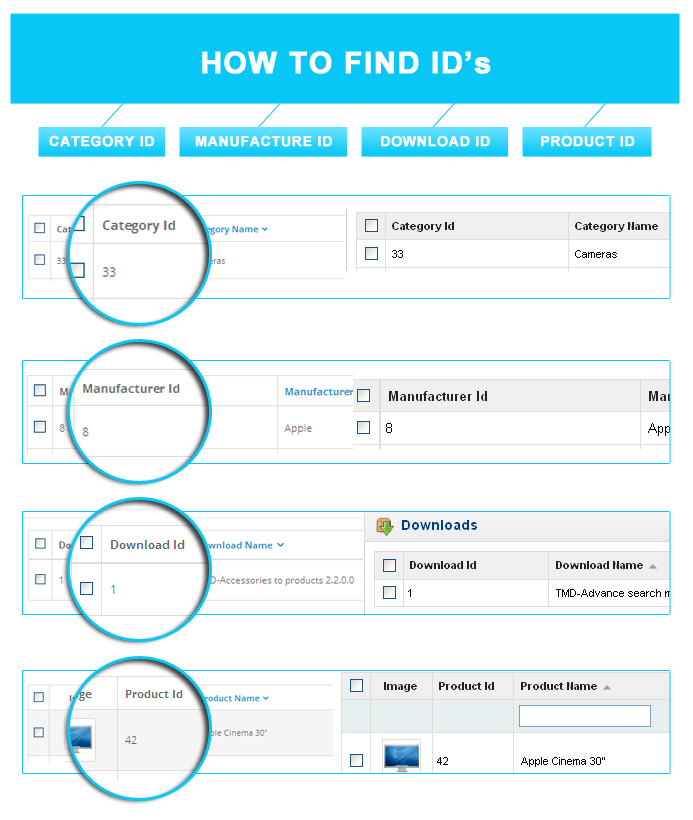 Support
---
We strive to keep all of our customers happy and provide the best support. Any questions and suggestions are most welcome. Please create a ticket, we will back to you as soon as possible.
Tags:
import export product
,
update product
,
bulk import product
,
bulk product
,
products imports
,
multilanguage import export
,
export by store
,
import
,
products
,
import export
,
export import
,
product import export
,
product export import
,
import export products
,
export import products
,
import export category
,
export import category
,
import export attribuites
,
bulk import export
,
bulk updater
,
product manager
,
complete backup
,
export import tool
,
import export tool
,
tool
,
filter import export
,
product
,
product import
,
product export
,
xls export
,
excel export import
,
excel export
,
excel impor
,
excel
,
xlxs
,
webx
,
product export tool
,
export products
,
bulk export productsimport export product
,
update product
,
bulk import product
,
bulk product
,
products imports
,
multilanguage import export
,
export by store
,
import
,
products
,
import export
,
export import
,
product import export
,
product export import
,
import export products
,
export import products
,
import export category
,
export import category
,
import export attribuites
,
bulk import export
,
bulk updater
,
product manager
,
complete backup
,
export import tool
,
import export tool
,
tool
,
filter import export
,
product
,
product import
,
product export
,
xls export
,
excel export import
,
excel export
,
excel impor
,
excel
,
xlxs
,
webx
,
product export tool
,
export products
,
bulk export products