Import And Export Multilanguage (1.5.x , 2.x , 3.x & 4.x)
| | |
| --- | --- |
| Supported OC Versions | 1.5.5 , 1.5.5.1 , 1.5.6 , 1.5.6.1 , 1.5.6.2 , 1.5.6.3 , 1.5.6.4 2.1.0.2 , 2.1.0.1 , 2.0.3.1 , 2.0.2.0 , 2.0.1.1 , 2.0.1.0 , 2.0.0.0 2.3.0.2 , 2.3.0.1 , 2.3.0.0 , 2.2.0.0 1.5.4 , 1.5.4.1 1.5.3 , 1.5.3.1 1.5.1 , 1.5.1.1 , 1.5.1.2 , 1.5.1.3 3.0.3.6 , 3.0.3.2 , 3.0.3.1 , 3.0.3.0 , 3.0.2.0 , 3.0.1.2 , 3.0.1.1 , 3.0.0.0 3.0.3.8 , 3.0.3.7 4.0.1.1 , 4.0.1.0 , 4.0.0.0 |
| VQMOD Required | YES |
| | |
| --- | --- |
| License type | Commercial |
| Support | yes |
| Update | yes |
TMD is an Official Partner of OpenCart
View Profile: TMD OpenCart Extensions India
What Is TMD OpenCart Product Import And Export Multilanguage Extension (1.5.x , 2.x , 3.x & 4.x)?
It gives a new feature to the website to import and export the products in a very simple way. This extension has an advanced filter that gives a lot of handy options. Admin can export all the products once of use filter to export required product records Export can be down in 4 file formats XLS, XML, CSV, XLSX. These files can open anywhere using free software on all operating systems.
New products can be imported to the website using product ID or Module as a unique code. There is store selection given to the admin to import products into the single store at once. There is a sample product Import file downloadable link preset. This sample file can be used as a template by the admin to adjust product data into a file.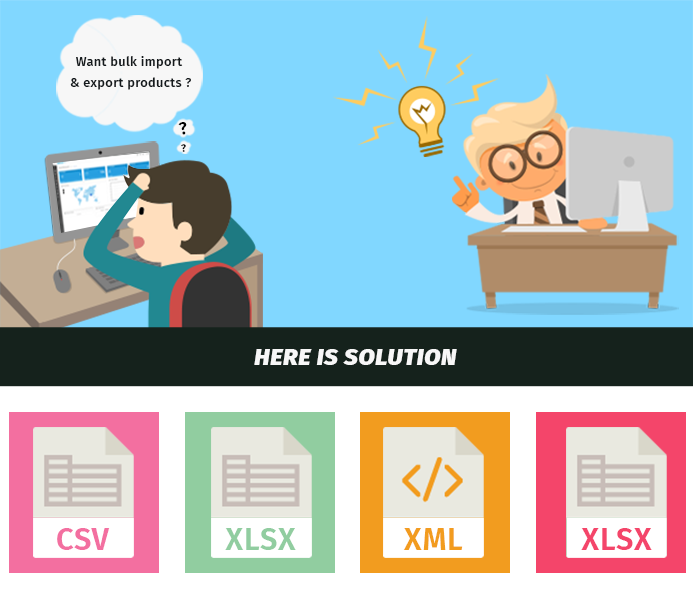 XLS FORMAT DOWNLOAD FROM HERE
Export Only Required Product List Using Advance Filter
---
Admin can either download the complete product list and information at once. There is also an advanced filter present that has multiple options. OpenCart Product import and export module helps admin to download only required product list only for administrative processing.
Some filter fields are Category, manufacturer, store, product review, quantity, custom fields most important in the filter. All the filter fields have prefield data from the website itself.
Admin can download product list information in language specific using language selection filter. Select English or Arabic language in the Language field of the filter and click the export button to download the file
This extension gives 4 file formats to export the product. These file formats are XLS, CSV, XML, XLSX, easily accessible in Windows, Linux, or Mac. Here is a complete list of fields present in the filter.
Category
Manufacturer
Stores - All Stores
Stock Status - All Stock Status
Status - All Status
Language - English
Product Review - No / Yes
Custom Extra Filed:
Product Image No / Yes
Quantity
Product Name
Model
Number of Products
Price
Select Format To Download: XLS, CSV XML, XLSX
Export File
Import New Or Update Existing Products Into Website
---
Admin can import the new product using the module. The FIle can have one of 4 file formats, XLS, CSV, XML, XLSX. This extension gave the option of language selection that will add the imported product information in the selected language by the admin while importing.
There is also a store selection present. Admin can import the product to the appropriate store to avoid mismatch. All the active store lists will appear in the store selection field. There is also a field present that shows custom fields currently used in products to store additional data.
According to unique data present in the product ID pr Module, in the product import file. Admin can select either import by Product ID or Model. This makes sure no duplicate products save into the store.
There is a sample import file downloadable link present. Download this file to check the correct way of placing product information in the file and match it with the sample file.
Download Sample Product Import file
Store selection
Language
Import By
Select the file format to be import
Custom fields
Select import file


Product Fileds Import Or Export By Module
---
EXPORT BY STORE, LANGUAGE, MANUFACTURER, ETC
EXPORT BY PRICE RANGE (50-100 etc)
EXPORT BY LIMIT (if your server have limited memory you can use this option its help a lot)

FILED LIST FOR IMPORT AND EXPORT LOT OF FEATURE PRESENTS

PRODUCT ID (if you are going to add a new product leave this empty and chose option upload by product id)
Language
Stores
Stores id (if you did not want put store name you can use id also multiple (0;1;2 etc))
MODEL (if you want unique by the model you can choose option upload by product model)
SKU UPC EAN JAN
ISBN MPN Location
Product Name
Meta Tag Description
Meta Tag Keywords
Description
Product Tags
Price
Quantity
Minimum
Quantity
Subtract
Stock (1=YES 0= NO)
Out Of Stock Status (5=Out Of Stock, 8=Pre-Order, In Stock=7, 6=2 - 3 Days)
Requires Shipping (1=YES 0= NO)
SEO Keyword (Must Unique)
Image(Main image)
Date Available
Length Class (1=Centimeter, 3=Inch, 2=Millimeter)
Length
Width
height
Weight
Weight Class (1=Kilogram,2=Gram,6=Ounce,Pound=5)
Status (1=Enabled, 2= Disabled)
Sort Order
Manufacturer id
Manufacturer
Categories id
Categories (category>subcategory; category1>subcategory1; )
Related Product ID (you can use product id of link (10;12;13))
Related Products (if you did not know id you can use the product model)
Option: (option1::value1-qty-Subtract Stock-Price-Points-Weight-sort_order,value2-qty-Subtract Stock-Price-Points-Weight-sort_order;option2::value1-qty-Subtract Stock-Price-Points-Weight-sort_order,value2-qty-Subtract Stock-Price-Points-Weight-sort_order;)
Images (foldername=image1;foldername=image2;image3)
Product Special price:(customer_group_id:start date:end date: special price )
Tax Class (None=0, Taxable Goods=9, Downloadable Products=10) Rest you can make and put that ID
Filter Group Name (Group Name: Sort order; Group Name: Sort order)
Filter names (group name=name:sort order;group name=name:sort order)
Attributes (Attribute group name:sort order=attribute name-value-sort order;Attribute group name:sort order=attribute name-value-sort order;)
Discount (customer_group_id:qty:Priority:Price:Date Start:Date End;customer_group_id:qty:Priority:Price:Date Start:Date End;)
Reward Points
Meta Title
Viewed
Download ID
Review
Compatible WIth OpenCart Latest And Older Version As Well
---
Import and export products are an essential part of an e-commerce website that's why TMD specially made this module to work on OpenCart versions 1.x, 2.x, 3.x and 4.x versions. All the version of OpenCart is supported by module and works perfectly.
A module can be easily installed via the upload module section in admin, on your website. Because this module uses OCMOD. Which does not overwrite OpenCart core files.
Your website remains untouched. All your work will work after the installation TMD module.
OpenCart product import and export module is plug and play. Just install and you are ready to use it right away. OpenCart product import and export module is compatible with 1.5.x, 2.x, 3.x and 4.x as well. Also, the module can import single language product information perfectly.
Support
---
Any question suggestion is most welcome. If you have any kind of question, suggestion, or looking for support. Please create a ticket.
Tags:
import export
,
import product
,
export
,
bulk update product
,
product import export manager
,
category import
,
manufacturer import
,
product
,
mass update product
,
bulk manage product
,
quick update product
,
quick insert product
,
backup
,
backup module
,
export product
,
complete backup
,
restore
,
data export
,
export tool
,
import tool
,
import products
,
bulk import
,
bulk
,
tool
,
export to dropbox
,
batch mode import incremental
,
import incrementally
,
bulk attribute upload
,
bulk option
,
bulk filter
,
filler category subcategory
,
product import export tool
,
product import
,
bulk insert product
,
product import tool
,
category import export
,
product export tool
,
export products
,
bulk export products
,
import export product
,
update product
,
bulk import product
,
bulk product
,
products imports
,
multilanguage import export
,
export by store
,
export by price range
,
memory export
,
export by language
,
import export products
,
import
,
products