Coupon Import Export (1.5.x ,2.x & 3.x)
| | |
| --- | --- |
| Supported OC Versions | 1.5.6.4 , 1.5.6.3 , 1.5.6.2 , 1.5.6.1 , 1.5.6 , 1.5.5.1 , 1.5.5 , 1.5.4.1 , 1.5.4 2.1.0.2 , 2.1.0.1 , 2.0.3.1 , 2.0.2.0 , 2.0.1.1 , 2.0.1.0 , 2.0.0.0 3.0.3.6 , 3.0.2.0 , 3.0.1.3 (Beta) , 3.0.1.2 , 3.0.1.1 , 3.0.0.0 2.3.0.2 , 2.3.0.1 , 2.3.0.0 3.0.3.8 , 3.0.3.7 |
| VQMOD Required | YES |
| | |
| --- | --- |
| License type | Commercial |
| Support | yes |
| Update | yes |
TMD is an Official Partner of OpenCart
View Profile: TMD OpenCart Extensions India
Overview Of TMD OpenCart Coupon Import Export Module
Coupons are used to attract customers to boost sales. After the installation of the module, it integrated into the existing Coupons list page in the admin of the website. Just go to the coupon list page and the admin will find the export and import option top of the page. This extension lets the admin import the coupons to the OpenCart website.
Use a downloadable sample import file as a template for importing coupons. There is an option to export a few or complete a list of coupons from the website. The module is created to work with all the OpenCart older 1.5x to newer as well.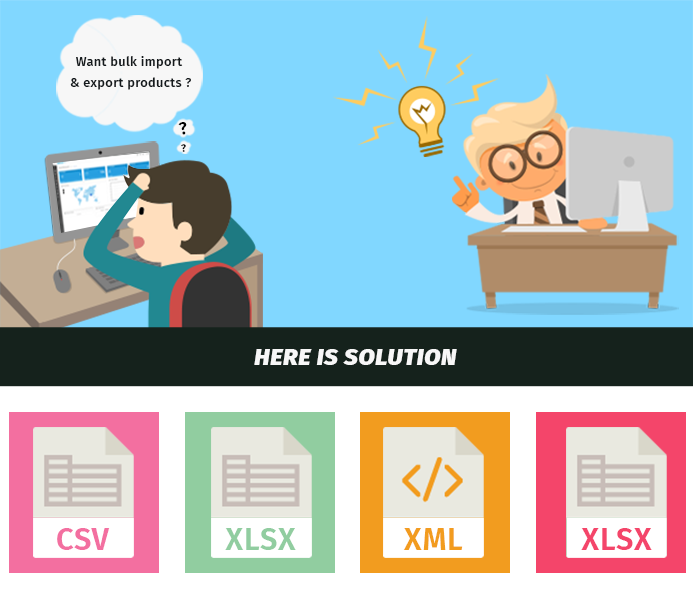 XLS FORMAT DOWNLOAD FROM HERE
Export OpenCart Coupons With Two Options
---
OpenCart Coupons import and export module comes with two options of export. These are Export All and Export Selected Coupons. As the name implies. admin has to select which coupons need to export. After selecting, click on Export selected to create an export file, and then it will start downloading.
There is a second option that use to export all the coupons present into a website in XLS file format.
[size=250]SPECIAL FEATURE[size=250]
YOU CAN EXPORT COUPONS SELECTED ONLY IF YOU NEED JUST A FEW COUPONS SELECT THAT AND EXPORT
FILED LIST FOR IMPORT AND EXPORT LOT OF FEATURE PRESENTS
Coupon Id (if you are going to add a new product leave this empty and chose the option upload by product id)
Coupon Name
Code
Type
Discount
Total Amount:
Customer Login
Free Shipping
Product ids(11,10)
Product names
Category ids
Category names
Date Start (Y-m-d)
Date End (Y-m-d)
Uses Per Coupon
Uses Per Customer
Status
Import Coupons Into OpenCart Website
---
Admin can import the new coupons using this module. The file must be in xls excel format to import the coupons. All the coupons will be imported by module, that's why entries must be unique, and there must not be any duplicate entries present.
There is a sample coupon import file downloadable link present on the import coupon page. Admin can download this file to check the correct way of placing coupon information in the file that is going to import and match it with the sample file.
Compatible With OpenCart Older And Latest Versions
---
All the modules and themes created by TMD are compatible with OpenCart older and latest versions. Because there are still people using the old version of OpenCart. We want them to get all the modules to work on their site.
This OpenCart coupon import and export extension is also compatible with 1.5.x, 2.x to 3.x versions. It also works great with a cloud version of OpenCart. It uses OCMOD for installation. By installing it, your website files will be untouched. All the module features will come into the existing coupons list page of the admin.
It is plug and plays module. Just install and you are ready to use it right away.
Support
---
Any question or suggestion is most welcome. If you have any kind of questions, or suggestions, or looking for support. Please create a ticket.