Add and remove captcha each form (2.x.x & 3.x.x, 4.x)
| | |
| --- | --- |
| Supported OC Versions | 2.0.0.0 1.5.6.4 , 1.5.6.3 , 1.5.6.2 , 1.5.6.1 , 1.5.6 , 1.5.5.1 , 1.5.5 , 1.5.4.1 , 1.5.4 , 1.5.3.1 , 1.5.3 , 1.5.2.1 , 1.5.2 , 1.5.1.3 , 1.5.1.2 , 1.5.1.1 , 1.5.1 , 1.5.0.5 , 1.5.0.4 , 1.5.0.3 , 1.5.0.2 , 1.5.0.1 , 1.5.0 2.0.1.1 2.2.0.0 3.0.3.8 , 3.0.3.7 , 3.0.3.6 , 3.0.3.2 , 3.0.3.1 , 3.0.3.0 , 3.0.2.0 , 3.0.1.2 , 3.0.1.1 , 3.0.0.0 2.3.0.2 , 2.3.0.1 , 2.3.0.0 2.1.0.2 , 2.1.0.1 2.0.3.1 4.0.2.2 , 4.0.2.1 , 4.0.2.0 , 4.0.1.1 , 4.0.1.0 , 4.0.2.3 |
| VQMOD Required | No |
| | |
| --- | --- |
| License type | Commercial |
| Support | Yes |
| Update | Yes |
TMD is an Official Partner of OpenCart
View Profile: TMD OpenCart Extensions India
Overview Of Add Or Remove Captcha In Each OpenCart Form
TMD OpenCart captcha extension allows you to add a captcha in the account login page, register account page, affiliates login page, affiliates register page, Checkout register page, and admin login page. If you do not want to show a captcha on these pages then select no from admin.
This extension is used to add a captcha for more security. By default, it's disabled so go into admin to change it. The extension works great with older 1.5.x to the latest version 3.0.3.x. Installation is easy and starts working after setting.
All In One OpenCart Captcha Extension
---
This extension enables adding a captcha in all forms present on your website. You can use either basic or Google ReCaptcha from the setting. Captcha is essential these days to avoid spam submission. It does a lot of work for the OpenCart store owners.
Admin can display captcha in checkout's customer login or registration form to the admin login page also. It also works in the contact with us form. In the setting, there is a global option to show and hide the captcha in all forms at once. This is one of the main advantages of this module.
Admin login
Enable and disable any time: global setting
Admin forgot password.
Customer account login
Affiliate login page
Checkout register/login
Newsletter form
Compatible with OpenCart version 2.2.x and 3.x
Live Example
---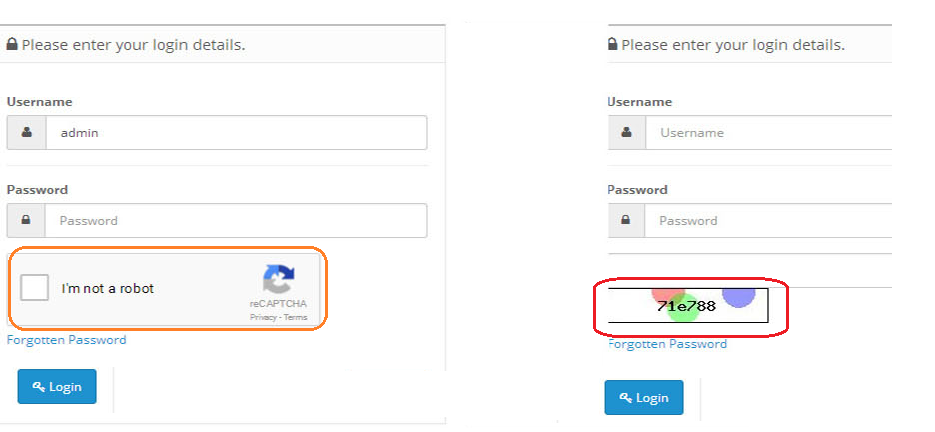 Automatically Attach To All Forms Present On Website
---
Add or remove captcha OpenCart module is smart enough to recognize forms and automatically attached them to selected forms from admin. The setting page has a list of forms. Selecting forms from the list and saving them., That's all the admin need to do.
In the front end, selected forms will have an enabled captcha present. Customers should enter the right code captcha before submitting the form. It will make your website safe from spammers and bots. Who submits spam information into forms. Bots will not able to log into your website.
Selected forms will have a captcha
Prevent bots and spammers
Help decrease server load
Configure Captcha From Admin
---
Two captchas are present in the extension. Admin can use any of them or both. Admin can use Google ReCaptcha. Just enter the Google ReCaptcha keys into the setting and select the forms, where you want to display them.
In the setting, Admin can select the form's name. All form names represent the page where they are present. For example, selecting admin login means, Captcha will display on the admin login page. While login admin will have to go through Google Recaptcha.
Two captcha present: Google Recaptcha, Basic captcha
Select Forms where you want to show the captcha


Works With All OpenCart Themes
---
Captcha in OpenCart extension uses VQMOD and OCMOD. It is accessible for all OpenCart themes. The extension works perfectly with all themes available in the market. We have done testing with highly-sold OpenCart themes as well as well-known themes. Extensions are plug-and-play.
The module is tested with many famous themes. Journal, Shoppica, Fastor, and Sellya are some names of the themes. Custom themes require some additional work.
Support
---
Got a pre-sale question or have support questions? Please create a ticket. We will help you to get it working.
Usage

follow these steps for Installation:-
------------------------------------------------------
1. Go to Administration Panel
1. Go to the Extension Installer option in the menu
2. Upload both .ocmod files.
3. Go to the Modifications menu
4. here you see your file name
5. Refresh the page from the refresh button that presents on top
6. Go setting menu->Edit->Click Captcha Tab
7. now select the yes or not an option
if you want to show a captcha then select yes if not then select the no option
now see the output in front site pages where you want to display captcha


Full Documentation
Usage

follow these steps for Installation:-
------------------------------------------------------
1. Go to Administration Panel
1. Go to the Extension Installer option in the menu
2. Upload both .ocmod files.
3. Go to the Modifications menu
4. here you see your file name
5. Refresh the page from the refresh button that presents on top
6. Go setting menu->Edit->Click Captcha Tab
7. now select the yes or not an option
if you want to show a captcha then select yes if not then select the no option
now see the output in front site pages where you want to display captcha


Full Documentation
Tags:
captcha
,
add account form captcha
,
login form
,
account form
,
affiliate form captcha
,
admin captcha
,
admin security
,
website security
,
customer login security
,
admin login security
,
stop spam
,
register security
,
more security
,
website safe
,
admin full security
,
account login
,
add account captcha
,
capctha
,
capcha
,
capctcha
,
remover
,
remove
,
recapcha
,
recaptcha
,
contact
,
returns
,
hidden
,
reviews
,
comments
,
product
,
disable captcha return
,
captchas
,
remove captcha information page
,
capthcas
,
disable captcha contact us
,
remove captcha
,
disable captcha
,
delete captcha
,
capthca
,
hide captcha
,
admin login captcha
,
forget captcha
,
guest captcha
,
newsletter captcha
,
checkout captcha
,
login captcha